Market Insight: Local & National Market Recovery Sustaining
August 12, 2013
Courtesy of Lake Norman Realty
The Lake Norman real estate market is sustaining its pattern of growth, as closings and new contracts continued to be on the rise in July. Closings for Lake Norman area homes in July 2013 when compared to July 2012 were up 21.6%, and new contracts during the same period rose 7.6%. Inventory overall has continued to shrink, however, it was interesting to note the higher price ranges are now seeing an increase in inventory, while homes under $400,000 continue to decrease in availability.
HOMES FOR SALE BY PRICE RANGE IN LAKE NORMAN AREA JULY 2011-2013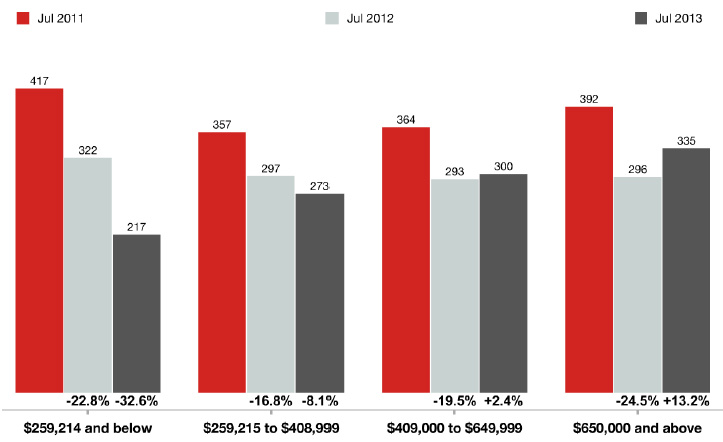 The Lake Norman market is on track with the nation's market as a whole, when we compare it to the recent findings reported in The State of the Nation's Housing report, released annually by Harvard University's Joint Center for Housing Studies. Their optimistic report provided a wealth of market facts regarding our national real estate market. Here are just some of the report's key findings:
Rising Home Prices and Rents are Clearest Sign of Recovery
* After across-the-board declines in 2011, all major house price indexes registered significant increases in 2012.
* By March 2013, the median house price in the United States was up 11.6% year over year.
* Between the fourth quarter of 2011 and the fourth quarter of 2012, the number of underwater homeowners fell 1.7 million, to 10.4 million.
Prices Boosted by Increasing Sales against Backdrop of Low Inventories of Homes for Sale
* Between 2011 and 2012, existing home sales increased 9.4% to 4.66 million units... their fastest pace
since 2007.
* The number of existing homes on the market entering 2013 was just 1.8 million... the lowest level since 2001.
* The total inventory of new homes for sale remained at historic lows throughout 2012... new homes for sale represented only 4.0 months' supply, the lowest reading since October 2004.
Investors Play a Key Role in Single-Family Market
* The share of single-family homes rented has increased sharply in recent years, with investors accounting for one in five home sales nationwide in 2012.
* The share of renters living in single-family homes rose from 30.8% in 2005 to 34.1% in 2011, totaling nearly 14 million units.
* In 2012, institutional investors moved aggressively into formerly high-growth but recently high-distress cities ... accounting for about 14-18% of investor sales entering 2012 but rising to 20-26% by the end of the year.
For greater detail on the report's findings click here.
*all data compiled from CMLS for Area 13, Lake Norman
Comments