December 16, 2013
The Jones Report - Mortgage Rates Down Slightly
Courtesy of Sally Forster Jones of Coldwell Banker Residential Real Estate - Southern California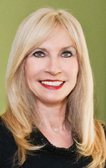 Happy Holidays! It has been an incredible year for our team. We have exceeded sales goals and have set the bar high for the coming year. I have noticed activity picking up for the first few weeks in December as some buyers are looking to buy before the New Year and motivated sellers continue to list their properties. I'm very optimistic that this spike in activity, even as the holidays approach, will be a strong indicator of a thriving market as we roll into 2014.
In the news, mortgage rates are down slightly from an 11 week high with the average 30-year fixed dipping to 4.42% this week. The average 15-year rate was also down to 3.43% from 3.47% (Bloomberg). Luxury home buyers may have also found it easier to secure jumbo loans in 2013 than previous years. "Private jumbo-mortgage originations are now on pace to hit the highest level since 2007, before the downturn kicked in. Borrowers signed up for $216 billion of private jumbos year to date through Sept. 30, up 34% over the same period a year ago, according to new data from Inside Mortgage Finance, a trade publication"(WSJ).
I am looking forward to a wonderful New Year and I would like to wish everyone a very happy holiday. Thank you so much for all of your support!