November 15, 2012
Santa Barbara Arts and Culture – The Funk Zone
Courtesy of Staci Caplan and Michael Humphrey of Sterling Properties & Estates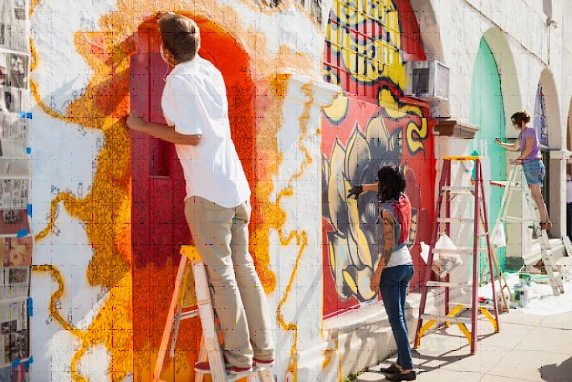 When people think of Santa Barbara, the scenes that often come to mind first are of architecture with gleaming white stucco structures topped by our famous red rile roofs, luxury homes in exclusive neighborhoods such as Monetcito and Hope Ranch, an endless array of boutique shops, decadent dining options, world class wineries, resplendent resorts, meticulously maintained golf courses, and our spectacular waterfront. Santa Barbra excels in all of these areas, making it a treasured hotspot for luxury lifestylers and celebrities as well as an excellent destination for anyone interested in arts and culture. However, some of the most exciting and inspiring aspects of Santa Barbara's arts scene are found not in polished, pristine galleries or grand theatres, but in Santa Barbara's legendary Funk Zone.
Santa Barbara's Funk Zone is located just off historic State Street, extending to Garden Street to the east and bounded top and bottom by Monetcito Street and Cabrillo Boulevard. In these last few blocks, downtown Santa Barbara ends and the beach begins. Don't be fooled by the name – Santa Barbara's Funk Zone is a flourishing center for the arts community, drawing a quite impressive selection of local artists and businesses working together to revive this special area of town. In the Funk Zone, visitors can find everything from painted murals stretching along entire facades of buildings, to surf shops, art galleries, restaurants, and more in a charming and quirky mixture of new, old, marine, residential, and industrial style buildings. In addition, many of the participating wineries of Santa Barbara's Urban Wine Trail are located in the Funk Zone.
Santa Barbara has a vibrant community-driven arts scene, one not limited to the confines of museums, galleries and theatres. Santa Barbara's Funk Zone serves as a refreshing break from the ordinary, and a journey into this eccentric little amalgamation of shops, homes, studios, and more is a great way to spend a day in Santa Barbara. If you would like to know more about Santa Barbara or are searching for your dream home in the Santa Barbara area, Sterling Properties is glad to be of service to you - contact us today!